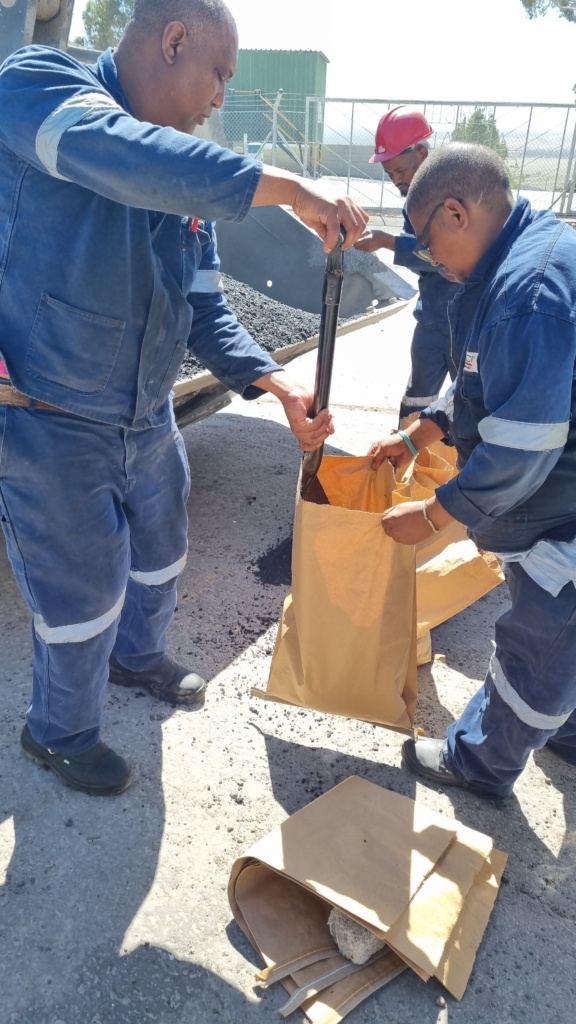 The South African asphalt industry is working hard to reduce its carbon footprint and improve sustainability by using waste materials to provide road surfaces that last longer.
AECI Much Asphalt recently completed a successful trial using non-recyclable glass in the asphalt layer. As this concept continues to develop, another potential game-changer is being tested. This time it is Instant Bio-Bitumen, a carbon-negative alternative to conventional bitumen derived from the refining of crude oil for use as the binder in asphalt products.
Instant Bio-Bitumen combines asphaltenes extracted from naturally occurring hydrocarbon resins with a maltene component derived from waste cashew nut shells. It can be produced by blending the ingredients or introducing them individually during the asphalt manufacturing process.
The bio-bitumen dramatically reduces the SHEQ risks associated with traditional bitumen derived from crude oil, reduces total CO2 emissions in asphalt production, and provides a convenient solution for asphalt production in remote locations.
"International bitumen supply has been negatively impacted by the IMO 2020 regulations, which limit Sulphur in fuel oil for ships to 0.50% for marine fuels globally, as well as the international move to green energy. In South Africa, the closing down of refineries and limited capacity of those that remain means asphalt manufacturers must import most of their bitumen requirements," explains Herman Marais, Director: Plant & Technical at AECI Much Asphalt.
"We need new solutions, and the development of alternative binders for flexible pavements that decrease impact on the environment is a significant breakthrough," he says.
Morne Labuschagne, Technical Manager: Bitumen at AECI Much Asphalt, adds that several bio-bitumen products containing few to no petrochemical-derived materials are commercially available internationally. "We decided to investigate Instant Bio-Bitumen for use in South Africa due to its novel recipe and recent success in Europe."
A study at AECI Much Asphalt's Central Laboratory in Cape Town in 2022 compared the properties of a traditional asphalt mixture manufactured with 50/70 penetration grade bitumen from a local refinery and an asphalt mixture using Instant Bio-Bitumen. According to Labuschagne, the results showed that the properties of the traditional asphalt mixture using the wet blend process were similar but generally inferior to the dry blended asphalt mixture using Instant Bio-Bitumen.
In February 2023 a plant trial was conducted at AECI Much Asphalt's Contermankloof site in the Western Cape but not evaluated in detail due to lower-than-expected binder content. A second trial is planned, with the asphalt mixture to be donated to a primary school for repairs and maintenance to parking areas, walkways and access roads.
"We are planning more paving trials on higher volume roads in the Western Cape," says Labuschagne. "We are also conducting more research using aggregates from different sources and Instant Bio-Bitumen with various asphaltene/maltene ratios. The incorporation of Instant Bio-Bitumen in warm mix asphalt with high ratios of reclaimed asphalt is the next step in our investigations."
AECI Much Asphalt continues to explore alternative sustainable recycling streams for various other waste materials such as foundry sand, waste shock tube generated by the explosives industry, Sulphur by-products and filter cake generated during mineral oil recycling. Watch this space.
Contact Morne Labuschagne for more information.
T +27 21 900 4400 | C +27 82 048 2192 | morne.labuschagne@aeciworld.com