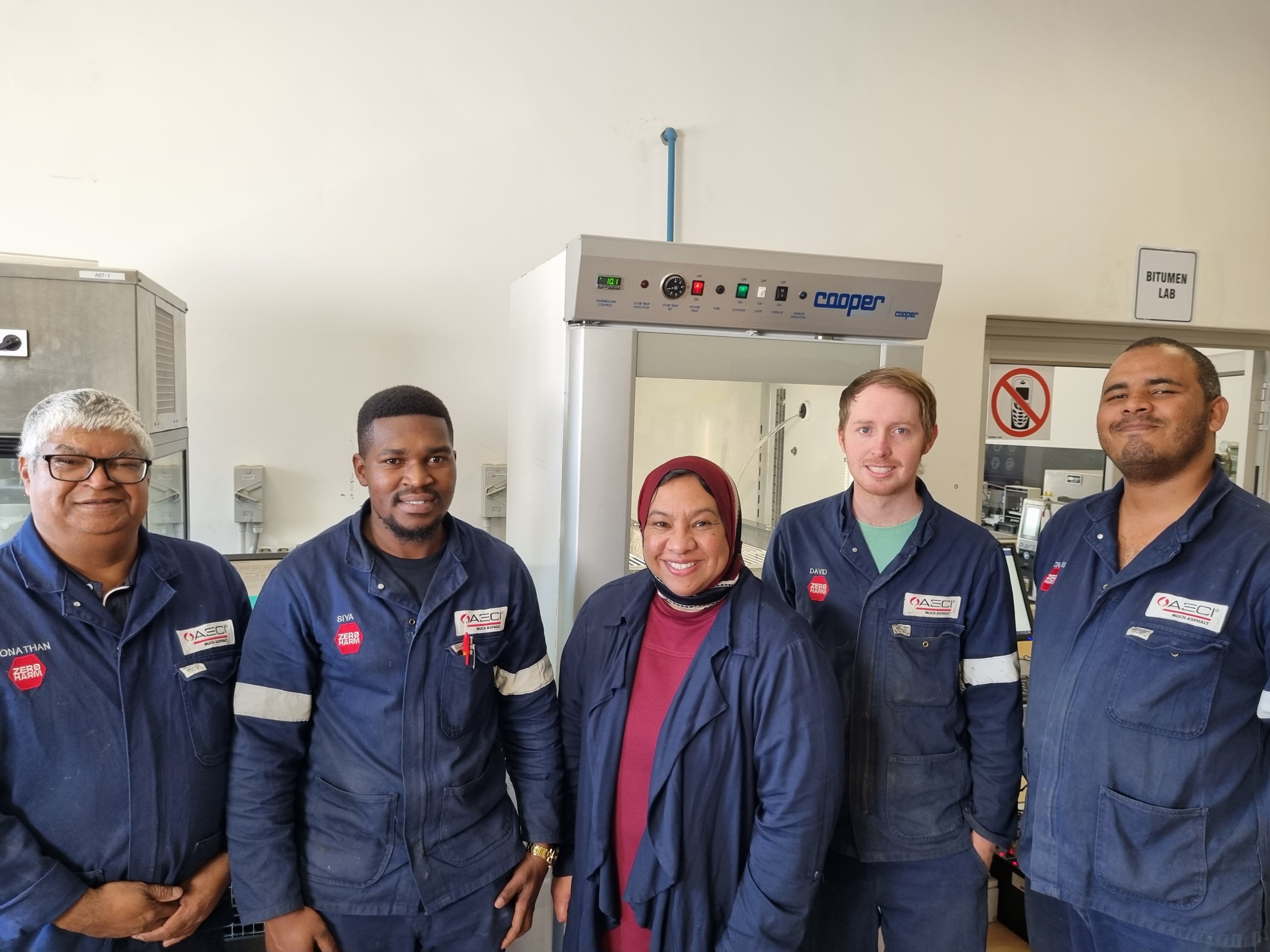 In 2006 AECI Much Asphalt's Central Laboratory in Cape Town became the first asphalt testing laboratory in South Africa to achieve accreditation from the South African National Accreditation System (SANAS).
Cenlab, as it is known, has now taken this significant step further to become the only fully accredited bitumen and asphalt laboratory in South Africa, reports AECI Much Asphalt Managing Director Bennie Greyling.
Firyaal Moos, Cenlab Manager, elaborates that all the current specialised testing carried out at the laboratory has been audited and accredited in a step that ensures the facility is 100 per cent covered by SANAS. This includes Dynamic Modulus & Flow, Hamburg Wheel Tracker, Fatigue Life and Dynamic Creep, PG bitumen testing, as well as rubber testing techniques encompassing Dynamic Viscosity, Flow, Compression Recovery, and Ball Penetration & Resilience.
Extension of scope
"Our Central Laboratory now has SANAS accreditation for all the relevant aggregate, binder and asphalt test methods."
"Cenlab has been SANAS accredited for a large number of test methods for the past 16 years and we have been audited every 18 months since then," Moos explains. ''However, testing methods have developed and changed over the years, and we recently applied for an "Extension of Scope" to include the most recent test methods, as well as others for which we have not previously been accredited. These advanced asphalt and bitumen rubber tests methods were the focus of the latest audit."
She adds that SANAS accreditation begins with assessment of the laboratory systems, including staff, equipment maintenance, calibrations, and verifications, followed by the test methods.  Additional test methods can then be included through the "Extension of Scope" process.
14 additional test methods
"Since August 2006 Cenlab has been accredited for Marshall Testing, SANS bitumen test methods and SANS aggregate test methods.  We included six additional Performance Grade Bitumen test methods in April 2022, and the final eight test methods in October 2022."
While the SANAS Accreditation applies to an AECI Much Asphalt facility, subsidiary AECI SprayPave participates in its correlation testing programmes and Cenlab plays a major role in AECI SprayPave's binder testing and product development.
"We are delighted that Cenlab is now 100% accredited, ensuring that we produce high quality test results which are continuously monitored and analysed through the checks and balances we have in place," says Moos. "Our daily activities incorporate equipment calibrations and verifications, regular updating of test methods, and continuous staff training. It is essential for us to keep up to date with the latest developments in specifications and testing regimes. Our SANAS accreditation also requires our involvement in both inter- and intra-laboratory comparative testing programmes for all our accredited test methods."
Sustaining relationships
She points out that AECI Much Asphalt aims to provide its clients with world class service and the peace of mind of knowing that test results are supported by stringent management systems to ensure quality and conformity.
"What Firyaal Moos and her team have achieved is truly remarkable and we are very proud of our flagship laboratory," says Bennie Greyling." "AECI Much Asphalt has built strong, lasting industry relationships in the past 50 years and I believe Cenlab's latest success will help to sustain these relationships."
Moos attributes Cenlab's long-term success as a SANAS-accredited facility to hard work and dedication, together with the best efforts of her team to keep pace with changes and developments in the industry. "Teamwork is key, and every team member plays a very important part in ensuring overall success."
The Benoni Laboratory in Gauteng has also upgraded significantly in recent years to offer all the most up-to-date testing equipment and techniques and is well on the road to its first SANAS audit. "We are learning from the Cenlab team and will try to emulate their outstanding achievement in the near future," says Joanne Muller, AECI Much Asphalt Inner Region Technical Manager.